RS Covers - The Eighties
The eighties were a dry time for HST at Rolling Stone. He had been fired somewhere after writing about Vietnam although his name was still on the masthead. He wrote mostly for the San Francisco Examiner; he and Jann Wenner were on pretty bad terms.
In chronological order, HST wrote for RS 368, 400, 429 and 447. He appeared in RS 318 and 512.
RS 368 - cover and obituary
RS 400 - cover and critique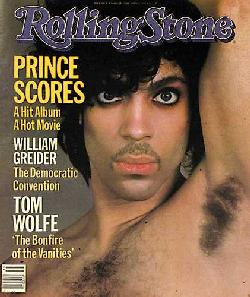 I can't imagine anything more scarier than seeing Prince naked, and this is about as naked as I want to see him! I bought this issue secondhand because it was listed in the biography Hunter as "The Sequins were Michael's Idea". Wowzers, I thought, I haven't read this. Turns out "Sequins" is a small reprint from FLLV, the part about the attorney's black glove plus a handcoloured photo of HST and Oscar in Las Vegas. I'm a wee disappointed that it wasn't anything new, but Tom Wolfe was also in this issue, so it wasn't all that bad. This is RS 429, August 30, 1984.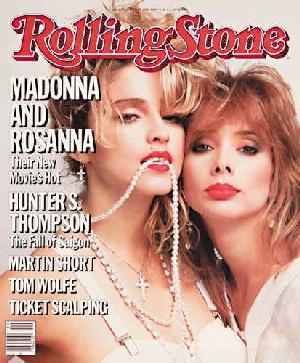 This issue finally came in :-) The article in this issue is the same as in Songs of the Doomed and contains a small picture by an artist (not Ralph) of a dark room with a skull sceptre leaning against a wall. To the right is a pair of tossed Converse shoes. "The Fall of Saigon" was published ten years after it should have been. In Hunter, E. Jean Carroll writes of her experience:
...Bob Wallace, the editor of Rolling Stone was due the next morning to pick up Hunter's Vietnam piece, which they were running, in a fit of Hunternalia, ten years after the evacuation.

We ordered in, watched a gameon TV, washed out his laundry, rode up and down in the elevator, ran back and forth in the hallway, I think Hunter did actually shave a couple of times, we ate six or seven meals, no we didn't make love, and Hunter, the greatest stylist in the English language since Jane Austen, turned in the piece the next day - on time. I'll never forget the look on Wallace's face (p231-232).
This issue is RS 447, May 9, 1985.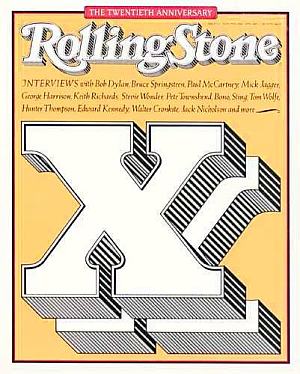 RS 512 marked the magazine's twentieth anniversary, and was a spectacular combination of photos, interviews and art, even more so than the tenth anniversary issue. For RS 512, PJ O'Rourke interviewed HST and Annie Lebovitz took HST's portrait which later appeared in Rolling Stone: The Photographs (another excellent book btw!). The picture is similar to the Ballantine cover of The Great Shark Hunt. I also have RS's twenty year book. What a tome! I strongly advise you to buy it if you can, secondhand.