"John Belushi"
Page added 1998
Last updated: May 2003
Seven issues after publishing a great cover story about John Belushi, Rolling Stone was also memorializing him in RS 368, April 29th, 1982. HST once said somewhere that John Belushi was "more fun in 20 minutes than most people are in 20 years." He had direct connections with John through his former girlfriend, Laila Nabulsi who also worked on Saturday Night Live.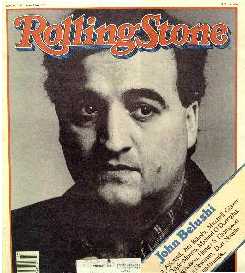 "Don't let the potbelly fool you - he was a serious athlete and a formidable adversary. While filming Continental Divide, he was exercising a lot with Bill Wallace, but he hated the Rockies, especially after an incident where he got out of the wrong side of a truck one evening and found himself plunging a hundred yards down onto a rocky river bank. Treacherous, unpredictable terrain for someone from Illinois.
I enjoyed his visits to Aspen. They were usually occasions for some unique fun, like the Halloween when I lured him out to go trick-or-treating, drove him around to confuse him and took him back to his own rented house in Kenyon City. He moved around so much back then, he was at the front door before he caught on.
Even though he was a bit of a monster, he was our monster, as well as a damned good person you could count on for help in the dark times. There was a ten-day period one recent summer when I sought refuge with him. We fooled around in his speedboat, dug clams and steamed them, and he lifted me out of the pit with his considerable powers as a host. The most drugs we did was a little pot, and he seemed as peaceful as I'd ever seen him.
The last time he visited me he caught my neighbor a bit off-guard by "borrowing" his truck for a spell. But, hell, he brought it back in pretty good condition. As far as I'm concerned, John is welcome at my house anytime, dead or alive. For me, John's epitaph is: THIS MAN WAS THE REAL THING. HE NEVER NEEDED PROPS."