The Corporate Giggle
Page added Mar-14-00
Last updated: May 2003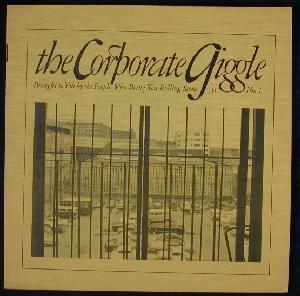 Eh. Yours truly did a kind of bad thing and spent too much money on this above item :-) As it turned out, I actually had two scans of the item. I found it a bit irresistable and the collection kind of demanded it. However, I can testify that I won't be buying much of anything for quite awhile! Mac n'cheese for me again :-) Thank God for plastic! The item is described as thus:
ROLLING STONE MAGAZINE The Corporate Giggle. Brought to You by the People Who Bring You Rolling Stone. No. 1 (all published?). 12 pp. incl. wrappers. Illus. from photographs & other sources. 81/2x81/2, photo pictorial yellow wrappers.
San Francisco: c.1972
Hilarious house organ by and for the iconoclastic staff at Rolling Stone Magazine, featuring letters, photographs, short articles, lists of birthdays, etc., relating to the staff and their production of the ground-breaking magazine. Among the features is a "letters" page, apparently wholly the brainchild of Hunter S. Thompson, with the last letter, from "The Staff," angrily asking "What the fuck is Hunter Thompson doing out there? Why is his copy always the last to arrive? We finish the issue, early, all except for his hysterical toe jam, then sit around doing fuck-all for eight hours waiting for that pernicious crap to come in page by page so we can bust our nodes getting it to the airport in time. Do we really need him? Is this trip necessary? The next time that pissant prima donna gets his story in late we're gonna attach them alligator clips to his cashews, slice 'em off and throw 'em on the courthouse steps." Quite a rare piece of Rolling Stone ephemera, and a significant item in the Hunter S. Thompson Oeuvre.