RS Covers - The Seventies
Page added 1997
Last updated: July 2005

This page was starting to take too long to load, so it has now been split into three. RS and HST swung into high gear in the seventies. It was the only magazine where he could get away writing libelous (and rebellious) screeds about his run for sheriff. A great deal of his magazine writing appeared here, until he was fired by Jann Wenner while in Vietnam. Back then, RS was still a newspaper type magazine and came in large folded sheets. Surviving unfolded issues sell for $100-200US. All these covers are available in slightly larger sizes; just go right-click>view image. Of course, if you care to take the time to find them, RS also works. Many of these stories are also reprinted in The Great Shark Hunt.
In chronological order, HST appeared in RS 67, 81, 90, 95, 96, 99, 101, 103, 104, 106, 107, 108, 110, 112, 113, 115, 118, 120, 121, 128, 138, 140, 144, 155, 164, 171, 187, 214, 254, 264, and 265.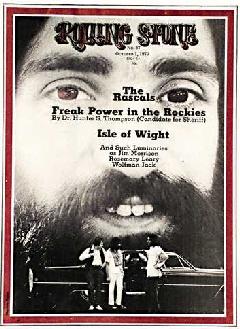 HST's first story for RS was "Freak Power in the Rockies" or "The Battle of Aspen" in RS 67. According to Songs of the Doomed, HST was writing for Scanlan's at the time and felt that RS was the only magazine that would take him and his run for sheriff seriously. The date on this magazine is Oct. 1, 1970.
RS 81 - cover and critique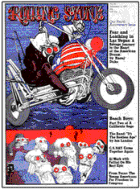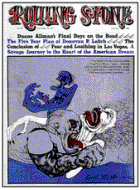 Fear and Loathing in Las Vegas first appeared in RS 95 (Nov. 11, 1971) and RS 96 (Nov. 25, 1971) under the pseudonym Raoul Duke. No special issue was released for it's 25th anniversary; in fact, a weak tell-all about Eddie Vedder knocked HST off the cover.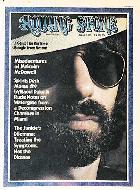 The above issue featured the demented article, "Memo from the Sports Desk & Rude Notes from a Decompression Chamber" with Peter Wolf on the cover. It is RS 140 (Aug. 2, 1973).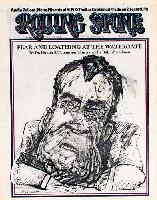 HST's next set of large articles on Richard Nixon came with Watergate. HST was in the bar of the hotel the night of the burglary, but perhaps did not get the kind of scoop that made Woodward and Bernstein famous. No matter; HST took his own road and did the next best thing - write about Tricky Dick for the criminal that he was. These articles, RS are reprinted in The Great Shark Hunt. The above cover is RS 144, "Fear and Loathing at the Watergate" (Sept. 27, 1973).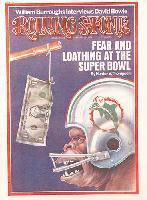 With Nixon exiting stage right, HST returned to his roots as a sportswriter with RS 155, "Fear and Loathing at the Superbowl" (Feb. 28, 1974). But it is not ordinary macho Superbowl hype story - it is a raucous stream of consciousness - HST gives a sermon from his balconey, visits a palm reader and rambles on incoherently about nothing in particular. It's divided into three parts: oddly, the real football talk doesn't appear until part 3. Reprinted in Shark Hunt. This issue is headlined "William Burroughs interviews David Bowie" at the top. According to The Complete Covers, the illustrator of the cover is unknown.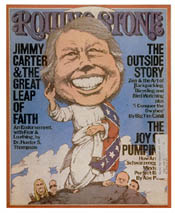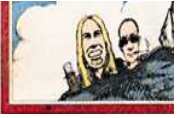 RS 214 (June 3, 1976) is probably one of the most influential pieces of political writing. Although HST did not officially endorse Carter (he has often said that endorsements are something a journalist shouldn't do - SoD), the issue was headlined, "Jimmy Carter and the Great Leap of Faith, An Endorsement With Fear and Loathing by Hunter S. Thompson" This article is also reprinted in Shark Hunt. Note on the Carter cover that HST is the little figure second from the left. Here is the blow-up I promised. Many thanks to Pat D for pointing out that the blonde guy is Greg Allman. Makes sense when I think of it now.