RS Covers - The Seventies
Page added 1997
Last updated: July 2005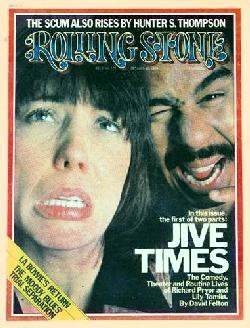 "The Scum Also Rises" was HST's belated article which missed "The Quitter" issue, RS 169. The editorial explains the heinous conditions it took to get HST to turn the article in for RS 171.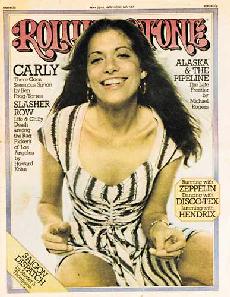 RS sent HST to Vietnam to cover the fall of Saigon for RS 187 (May 22, 1975). It was HST's first time in a war zone, and he drove the regular reporters, especially Nicholas Von Hoffman, Philip Caputo and Nick Proffitt, absolutely crazy. Material that was never published in RS later ended up in Songs of the Doomed. The headline "Saigon Dispatch" is in the lower left corner.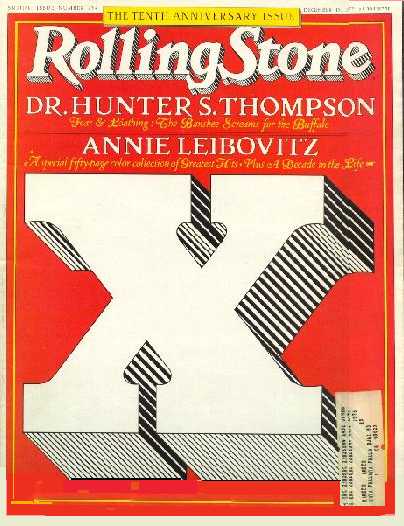 Click for larger
RS 254 marked it's 10th anniversary. This issue mainly featured the works of Annie Leibovitz - fifty pages in fact, and she got second billing under HST' "The Banshee Screams for Buffalo Meat" which was reprinted in Shark Hunt. It is HST's long, winding and passionate obituary for Oscar Acosta. It features a hilarious caricature of HST and Jann Wenner by Ralph Steadman on the last page.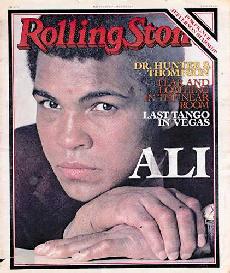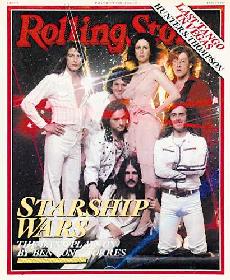 These two covers represent HST's writing on the Rumble in the Jungle, or more famously, the fight that HST never went to and allegedly whiled his hours away swimming. These are RS 264, "Last Tango in Las Vegas, Fear and Loathing in the Near Room" (May 4, 1978) and RS 265, "Fear and Loathing in the Far Room" (May 18, 1978). Both articles are reprinted in The Great Shark Hunt and are really quite funny, especially the second article, I believe, where HST comes charging into Ali's hotel room wearing a hideous mask that Ali likes so much he tries the same trick himself.
Though not by HST, I thought this was an interesting cover of Doonesbury's Uncle Duke. HST claims that he was once offered the governorship of Samoa. G.B. Trudeau did a couple of RS covers, including an interview with his charcter, Jimmy Thudpucker. And That's My Final Offer is just one Doonesbury collection with Uncle Duke on the cover.