RS Covers - The Nineties
Page added 1997
Last updated: July 2005
With his infamous "lifestyle bust", HST returned to RS in various ways, pleading his case for all those who would read it. Larger works appeared, small screeds and little obits in this decade.
In chronological order, HST wrote in RS, 590, 605, 622, 632, 639, 697, 740, 748, 762, 769, 782 and 812. He appeared though, in RS 581, 582, 647 and 788. This is not a complete list; will update someday.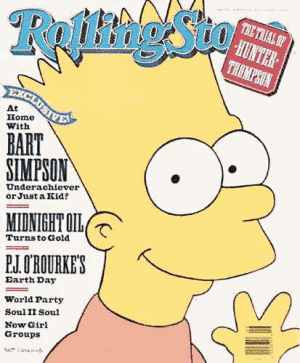 What better way to ring in the New Year than get hit with enough felonies to put one away for fifty years? HST found himself in that perdicament when Gail Palmer-Slater, a woman of many colourful careers, refused to join HST in his hot tub...what followed allowed the authorities to search Owl Farm for 11 hours. Of course, they found a lot more than just peacocks and used typewriter ribbons. "The Trial of Hunter S. Thompson" by Mike Sager included a new Ralph Steadman portrait of HST. This is RS 581, June 28, 1990. (Mere coincidence that Bart Simpson is on the cover?)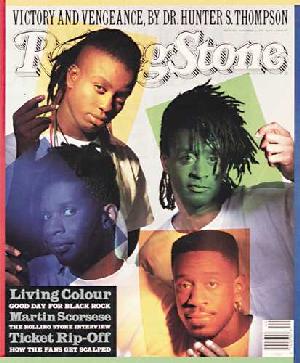 RS 590 followed with "Victory and Vengeance", the "90s" excerpt from Songs of the Doomed . This issue is very easy to find in used book stores for some reason.
RS 605 - cover and critique
For those of you who remember why I have the article
but not the cover, here's the cover of RS 605! [Geez, I no longer remember why :-D]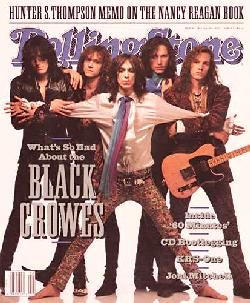 RS 622 - cover and critique
RS 639 - cover and critique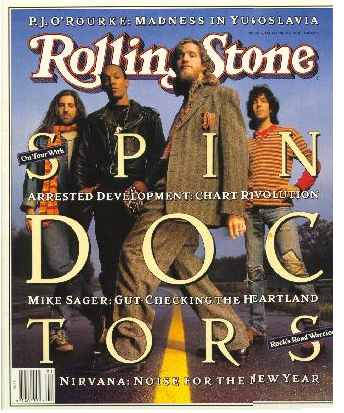 I bought this issue from 7-11 without realizing that HST was in it. Under "Random Notes", there is a story about RS's 25th anniversary party. Included are a picture of HST with Jason Priestley and a staff photo where HST has his big paw around Annie Liebovitz.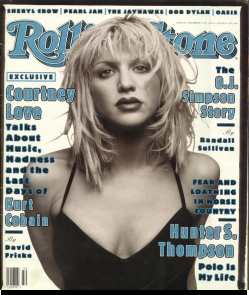 The long awaited "sex book", Polo is My Life made it's first appearance in RS 697 (Dec. 15, 1994). It's not about sex - or at least this "To be continued" excerpt. It's about HST's rounds on the polo circuit and some nightmares with the ghost of Averrill Harriman. HST told a Today Show reporter that it was his novel; it was first announced in 1990 and was supposed to be released in March/98. No word yet. "Polo is My Life" is pretty funny though, and contains six or seven new colour drawings by Ralph Steadman.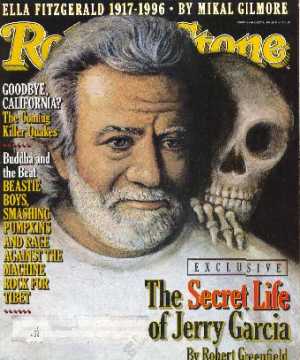 HST's obituary for Tim Leary first appeared here in RS 740, under "Love letters, Correspondence and Advice". It later became the rare chapbook, Mistah Leary...He Dead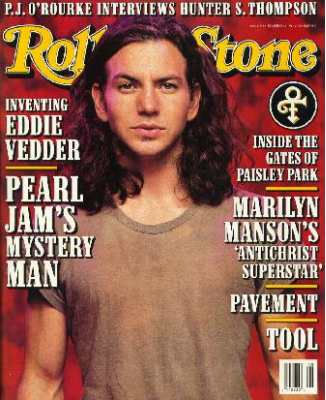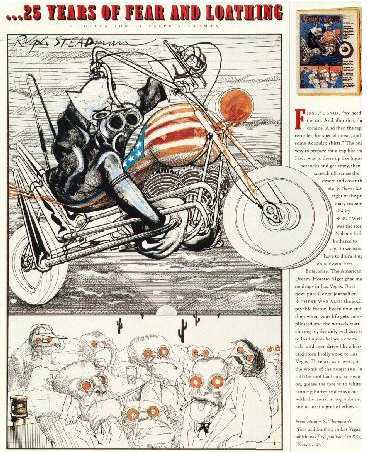 RS 748 (Nov. 28, 1996) was the 25th anniversary issue of FLLV. Features a fold out cover (on the right) and two wickedly weird illustrations by Ralph Steadman using illustrations from Gray's Anatomy, plus one of the original drawings. P.J. O'Rourke interviews HST about the book, the sixties, and his childhood. The first few chapters of FLLV are excerpted.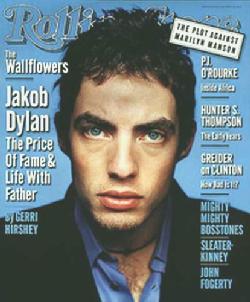 Gorgeous Jakob Dylan appeared on RS 762. Excecerpts and photos from The Proud Highway are featured as well as a lovely oil painting on the contents page. The caption on the painting reads "All I'm saying is, be an outlaw, but in your own way".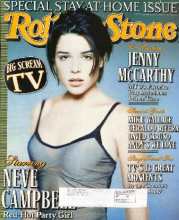 The world lost the Godfather of the Beats when William S. Burroughs passed away. HST wrote a short tribute recalling an afternoon of shooting guns with his girlfriend Nicole. HST calls WSB "The Shootist". This refers to John Wayne's last movie about a dying gunman who makes his last fight. I like to think HST meant that WSB was just as great an American hero as The Duke. The obit is so short, I'm going to print it here when I get a sec. This is RS 769.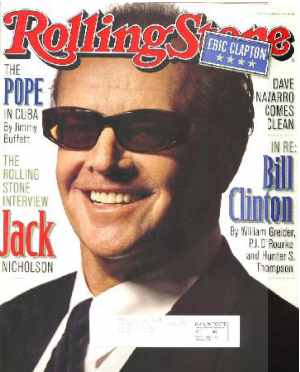 HST's more recent work, this is a hilarious tribute to the "president who legalized sodomy". HST prophesizes that Al Gore will have trouble being elected because he is so straight. Most funny of all is the interview with Jack Nicholson where he says that the older he gets, the younger the women are who are attracted to him. :-) Compared to the other articles by PJ O'Rourke, William Greider and Eric Schlosser, HST's piece is fairly short and not too insightful - some complain that it isn't even worth reading. However I think it shows what HST does best - how to get a sinister laugh out of an issue, but not in the same way as PJ.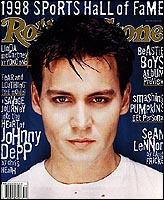 RS 788 (June 11, 1998) hit the stands almost a month after the movie opened. I bought two extra copies at the Co-Op, and two teenage girls giggled as I stood in line (as in, ooh Johnny! but who's this old lady buying two of you! Ahem. I am not an old lady. I haven't even hit 21 yet. Soon, tho). This issue featured two lovely photographs of HST and a story behind the story of making FLLV by Chris Young. Note that RS did not run a proper full length review of FLLV, just a brief note (in either this issue or the one after it, will check).
RS 812 - cover and critique