HST & Friends
About HST
+
Who is HST?
Biographies
+
E. Jean Carroll
+
William McKeen
+
P. Paul Perry
+
Peter O. Whitmer
Interviews
Media Treatments
HST's Friends
---

---
Hunter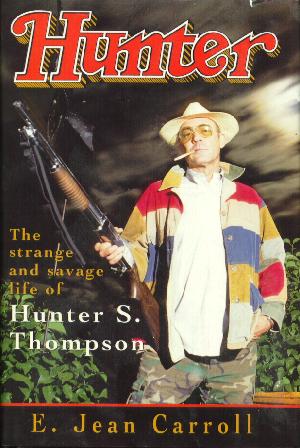 Hunter, by E. Jean Carroll, was the second biography about HST to be released, if you consider William McKeen's book, Hunter S. Thompson, from G.K. Hall to be the first (it's really more of a literary criticism book, but considering that so much of HST's life is in his writing, that makes sense).
By far it is my favourite biography, with Peter O. Whitmer's When the Going Gets Weird to be my second favourite, and the other biography, by Paul Perry, to be somewhat trashy, although the photo section has some pictures from HST's younger days.
By far, it's the photo section of Hunter that makes it for me. Not only is the cover fantastic, but 35 pages of black and white photos of his family, friends and himself was a pure goldmine. Not only that, but the comprehensive biography, which is current up to late 1992.
Many have panned this book for Carroll's technique - she alternates biographical chapters with that of her own alter-ego, Laetitia "Tishy" Snap, a ornithologist who comes to Owl Farm to study HST's peacocks but ends up typing his biography and bearing his child. I find these sections a real hoot, although gonzo purists may find it insulting. However, I thought it was an interesting way of describing HST's house - I'm not sure many American writers keep 19 pairs of Chuck Taylor All-Stars. While not everything that Tishy does is true, some of the dialogue has to be - HST wonders if he should put lipstick on while driving and screams at the TV.
The biographical sections are fun to read. A whole can of worms has been opened and spilled. Carroll talks to his younest brother Jim, his childhood friends, old girlfriends, drinking buddies, literary friends (although Jann Wenner and Ralph Steadman politely declined at the behest of HST), sections from interviews and most important of all, HST's ex-wife, Sandy.
A review of Mark Spitz's Bob Dylan biography that I read recently somewhere on the net called Dylan's wife one of the most ignored women in musical history. Indeed, it's easy to forget that most of HST's strength came from Sandy, who was married to him for almost 18 years; and before that she had known him since his New York days. She is in the background in all the other biographies, but true readers of gonzo remember that she was also in Hell's Angels at La Honda, Campaign Trail was dedicated to her, and she also appears in The Great Shark Hunt, not to mention their letters in The Proud Highway. A very sad picture emerges of their love for one another, but also of a marriage strained by drugs, alcohol, violence, and infidelity - in fact, Carroll even sought out "Barbara", a woman whose voice appeared on one of HST's tapes to himself. However, for those who never thought of HST as a family man, it is also here how much he cared about Sandy and the many miscarriages that she had.
There is almost no narrative to the biographical sections. The memories of the speakers are presented as they are - and in some cases, two or three different versions of a particular even come out (for example, the postscript to Hell's Angels). Some of the stories are quite funny, while others are mind-boggling. Thrown together, it makes for a very strange mosaic of HST. The reader is left to their own conclusions, as Carroll as Tishy does not make any real judgements against HST. In a way, this book is very much like an REM book that I once saw...mmm...will have to check the title.
Some feel that Carroll tries to "ape" the gonzo style, but I really don't think so. Having read Female Difficulties, I can say that Carroll's breezy style is all her own, and unlike Perry and Whitmer, she does not try to reconfabulate events in HST's life. I feel it's more honenst to be able what others say about HST. However, that is also a downside to the book. While the events are presented chronologically, it is almost devoid of dates and places. No big deal though, since no one is really sure when HST was born, the lines between fact and fiction and fantasy blur nicely adding only to the myth and legend of HST.