Articles and Essays
Covers and Pictures
+
Two Trade Paperbacks
+
White Paperback Cover
+
Australian Cover
+
Vintage and Modern Covers
+
Overseas Covers
+
Hebrew Cover
+
Signed First Edition Hardcover
+
Movie Tie-In Covers
---

---
Overseas FLLV
Page added 1997
Last updated: Fall 2005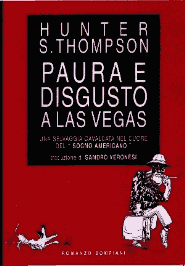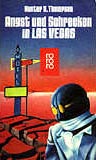 FLLV is by far HST's key work. It and other works have been translated into Japanese, German, French, Spanish, Italian, Norwegian, Hebrew, Finnish, Dutch, Hungarian and a few others. This just goes to show how far the feeling of cultural anomie is, and what a universal writer HST and his ideals are.
The titles make me laugh: Paura E Disgusto A Las Vegas and Angst Und Schrecken in Las Vegas. Obviously not too much was lost in the translation :-) Actually, I also have no idea what the cover illustration is supposed to be on the German one. I'm assuming it's a desert, but what is that blue thing in the foreground looks like a robot? (If you think this is weird, I have a collection of Mark Twain stories and The Andromeda Strain in German. I still haven't figured out those covers.)
New on this page is this cover: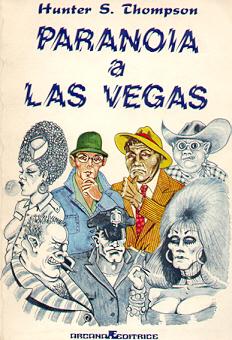 Monica writes:
"I'm sending you a scan of the first cover of the Italian FLLV translation. Note that the title is different (Paranoia a Las Vegas). It was published in April 1978 by Arcana Editrice. The cover is by Jost Jakob.
These two Dutch covers belong to Frans L.. I like the one on the right the best - notice the one on the left is pink.