Articles and Essays
Covers and Pictures
+
Two Trade Paperbacks
+
White Paperback Cover
+
Australian Cover
+
Vintage and Modern Covers
+
Overseas Covers
+
Hebrew Cover
+
Signed First Edition Hardcover
+
Movie Tie-In Covers
---

---
Hebrew Cover
Last updated: Fall 2005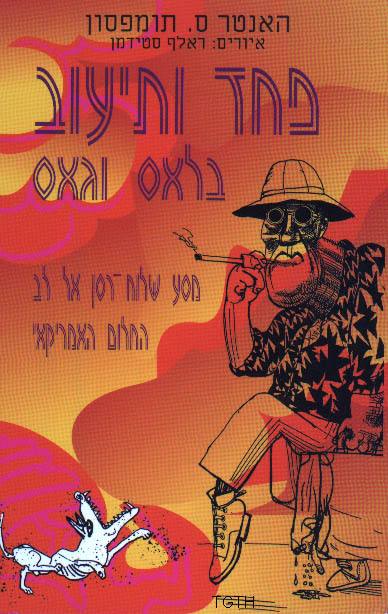 Back in summer, 2001, the editor of the 2nd edition of FLLV kindly sent me this picture. He writes:
We are working on the 2nd edition (the first one was published in 1998 and since has been reprinted twice). Fear and Loathing in Las Vegas has become something of a cult book amongst young Israelis and the current edition will run out of print quite soon. We were diagnosed as commercially insane when we first undertook to translate and publish this book in Hebrew.
He wrote again in December 2001 and sent the finished cover art (below) for the book. This edition also includes some illustrations that were not in the first Hebrew edition and biography of HST. The book is published by Penn Publishing Ltd.