Articles and Essays
Covers and Pictures
+
Two Trade Paperbacks
+
White Paperback Cover
+
Australian Cover
+
Vintage and Modern Covers
+
Overseas Covers
+
Hebrew Cover
+
Signed First Edition Hardcover
+
Movie Tie-In Covers
---

---
Signed First Edition FLLV Cover
Page added 1998
Last updated: Fall 2005
Internet auctions turn up amazing things, and I was sincerely amazed with this below. The book sold at it's reserve price of $700US, and the picture and story are used with permission of the seller, Scott.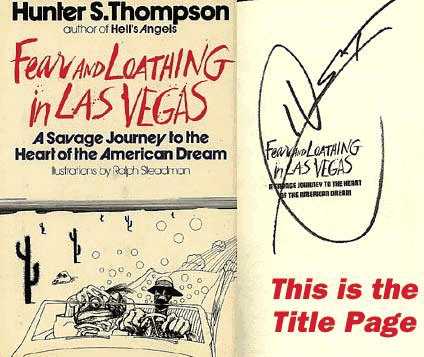 He described it as thus:
"Dr. Thompson has signed his initials, HST, on the title (or half title) page. (He rarely signs -- rarely is he sober enough to -- and when he does only signs his initials, NEVER his full name). I met him at the Virgin Megastore in NYC where he did a signing when Fear and Loathing the movie came out. I absolutely GUARANTEE this book and signature to be real. I watched him sign it with his own hand between drinks. This is Thompson's best and most important book and it has just been added to the Modern Library list of the greatest books ever published alongside such greats as James Joyce, Franz Kafka and Eugene O'Neil. Modern Library has published their own new hardcover edition of the book. In my 20 years of collecting I have only seen Hunter Thompson at signings TWICE. One at Barnes and Noble was more typical in that he wouldn't sign anything but his newest book. That's generally how his signings go so I got really lucky to get this book signed by him. They only let about 200 people into the signing and I think I was the only one with old books. I really want to keep this book as I have wanted a signed first edition of Fear and Loathing all my life, but I have to pay the mortgage. I hope someone gives this rare book a good home."
I hope so too Scott. I'm going to be buried with my Screwjack! ;-)