Gonzo Fans
Page added: 2002
Last updated: Dec-2010
by Christine O.
God bless gonzo fans :-) A surprising number of people like to dress up as HST - it's a very simple costume to put together - LL Bean hat, loud 70s or Hawaiian shirt, a cigarette holder, and aviators. Many people want to know where they can get a patched jacket like HST's - as far as I know, it's an LL Bean jacket. Just visit a thrift store for cheap retro fashions. In fact, in the movie Never Been Kissed, two people show up at a party dressed as Duke and the attorney. Still haven't seen this film, but a lot of people wrote in to mention it.
If you like these, you'll also love the gonzo tattoos.
All photos are copyrighted by the submitters. Click on the person's name below to view their picture. I am not updating this page anymore, please do not send your pictures.
Banzai Bridge | Ryan | Dani | Unknown | Jeff | Ed | Jay | Max | Gonzo Couple | J.S. | Dan and Bill | Chad | Alex | Justin | Daniel & Friend | Matt | Léo | Phil | Rachel & Scott | Dr. Raven McCoy | Chris & Z | Philly Flyers Fan | Peter | Nate & Wade | Steve | Greg B | Matt K | Chris | Dick | Kain | Leslie | Kelvino | Cesar | Jerry | Frank | Rob | Dave | A Friend | Sasha | Alice and Friend | More gonzo fans
Phil
Photo added Feb-19-06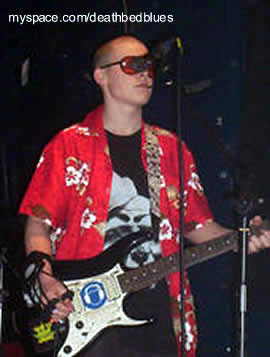 Phil writes: "I dressed up as HST for my 21st about a week before he died, which was slightly eerie. I felt a tribute at our gig was in order, sadly only a small few noticed the reference. This is the only pic from the gig." You can visit Phil's band at
myspace
.