Gonzo Fans
Page added: 2002
Last updated: Dec-2010
by Christine O.
God bless gonzo fans :-) A surprising number of people like to dress up as HST - it's a very simple costume to put together - LL Bean hat, loud 70s or Hawaiian shirt, a cigarette holder, and aviators. Many people want to know where they can get a patched jacket like HST's - as far as I know, it's an LL Bean jacket. Just visit a thrift store for cheap retro fashions. In fact, in the movie Never Been Kissed, two people show up at a party dressed as Duke and the attorney. Still haven't seen this film, but a lot of people wrote in to mention it.
If you like these, you'll also love the gonzo tattoos.
All photos are copyrighted by the submitters. Click on the person's name below to view their picture. I am not updating this page anymore, please do not send your pictures.
Banzai Bridge | Ryan | Dani | Unknown | Jeff | Ed | Jay | Max | Gonzo Couple | J.S. | Dan and Bill | Chad | Alex | Justin | Daniel & Friend | Matt | Léo | Phil | Rachel & Scott | Dr. Raven McCoy | Chris & Z | Philly Flyers Fan | Peter | Nate & Wade | Steve | Greg B | Matt K | Chris | Dick | Kain | Leslie | Kelvino | Cesar | Jerry | Frank | Rob | Dave | A Friend | Sasha | Alice and Friend | More gonzo fans
Banzai Bridge
Photo added 1998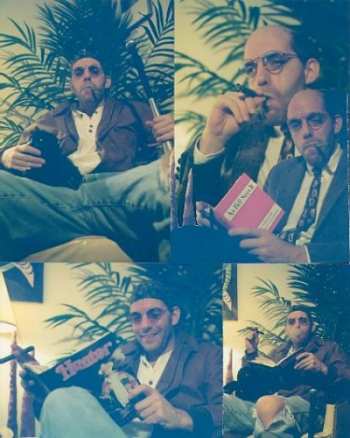 I never truly understand what Banzai writes to me. The pictures were taken by Warholian.
Caligula,had a good thing going but he ruined it!!...But you your on to something good and righteous DOCTOR! Will organize H.S.T. wave at next master's golf tournament with your Nod of approval and Blessing!! - YOUR humble servant BanzaiBridge!
Well Miss Christine a reply Hmm Ann Landers? lol The wave with a sign would be aprpopriate for the ggod Doc some recognition for his Love for the game and a National t.v. tribute would be most appropiate! mucho gracious in referance to pics the story is simple my curious one Banz in chair with bat protecter of what is good and righteous which includes my partners in Gonzoism. Now the rest are caddy get down of life sober now but still am rascal and always looking for good sex,a good story, or both perhaps LoL..The book in the pic is insights by the founder of A.A. where all the good loathers go after Hunter is through with them he he. That madman I use to call woody creek totally ineberiated and he wouldn't pick up egadds Oh well hope that guy hasnt run out of copoes of Caligula Im not giving up mine if he starts asking you! Your Madman in ILLINOIS! p.s. thanx for the reply Miss Christine!