HST & Friends
About HST
+
Who is HST?
Biographies
+
E. Jean Carroll
+
William McKeen
+
P. Paul Perry
+
Peter O. Whitmer
Interviews
Media Treatments
HST's Friends
---

---
Mojo, April 1999
Page added Apr-14-99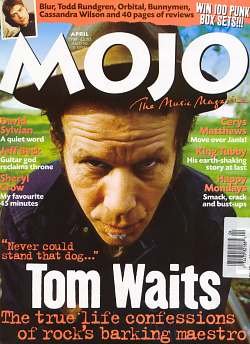 Thanks to Jeff for the issue of Mojo. This fab pic accompanied the interview for the EMI Songbook CD, Where Were You When the Fun Stopped?.
"Regarding Ralph, his all-time favorite album is Jim Morrison (and The Doors) "American Prayer" because "it's wonderful to hear this suicidal singer giving it all in a concert in L.A. It's suicidal because you could kind of tell that he wasn't going to make it." Funny, I always thought it was a spoken-word album. Oh well ... here is the HST:"
Hunter S. Thompson
None more gonzo
WHAT MUSIC ARE YOU CURRENTLY GROOVING TO?
My own album. Can I say that? For pleasure. And I've been listening to a Ry Cooder album made in Cuba called Buena Vista Social Club. I'm going to go down to Havana pretty soon--as an American, you have to come in from a third country; it's routinely done. Clinton is about to relax the economic embargo--I've heard stories of a horrifying avalanche of teenage prostitution and whoremongers down there.
WHAT IF PUSH COMES TO SHOVE, IS YOUR ALL-TIME FAVORITE ALBUM?
When I went to Washington for the first time, rented a house and all that, I turned on the FM radio looking for a good station, and the first song I heard was Sam Stone from that first John Prine album, the one with Angel From Montgomery; it had just come out. So, John Prine. And a Rolling Stones greatest hits.
WHAT WAS THE FIRST RECORD YOU EVER BOUGHT? AND WHERE DID YOU BUY IT?
Stole would be a better word. We all used to shoplift those little 45rpm vinyl discs when I was a child in Louisville, Kentucky, in a music store downtown where we'd go after school. It had those booths where you could listen to any record you wanted. You'd choose which one you wanted to buy, and which two or three you wanted to steal. I was into rhythm and blues back then, and the first one I stole was Work With Me Annie by Hank Ballard. I also picked up Howlin' Wolf's I Smell A Rat. Little Richard, one of my heroes for a long time ... I don't know ... my mind is hazy right now.
WHICH MUSICIAN HAVE YOU EVER WANTED TO BE?
The fist time I heard that Chuck Berry tune Maybelline I was in the air force at a desert base. Here I was in a tin-box cantina and I thought, Boy, that guy Berry's having a good time--things are happening here!
WHAT DO YOU SING IN THE SHOWER?
I don't sing, man. I think dark thoughts.
WHAT IS YOUR FAVOURITE SATURDAY NIGHT RECORD?
The theme from Caligula. A lilting love song, as I recall.
AND YOUR SUNDAY MORNING RECORD?
Will The Circle Be Unbroken by The Nitty Gritty Dirt Band.
(end)
Related Stories:
•Where were you when the fun stopped?