Gonzo Tattoos
Page added: 2002
Last updated: Feb-18-08
Some time ago, someone sent me a picture of their gonzo tattoo. So I put it under the Fun section. Lo and behold, more people started sending in their tattoos! So here they all are. I have been promising, for as many years, to post a template of the gonzo fist for people to print and take to the tattoo artist. I promise it will be posted before April 2006. What can I say, I'm a champion procrastinator.
If you love the tattoos, be sure to check out the gonzo fans in costume.
All tattoo photos are copyrighted by the submitters. Click on the person's name below to view their tattoo.
Joe
Photo added Apr-27-06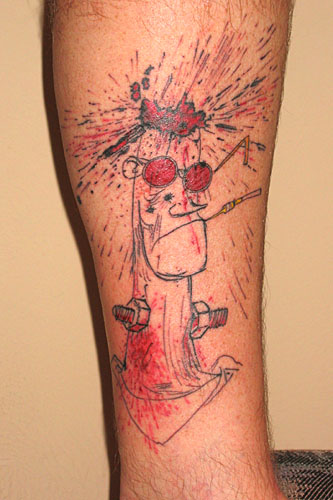 What else to say except "Wow!" I was genuinely surprised when I popped this picture open in PhotoShop. Joe's tattoo was sent in by friend who writes: "Here is my friend Joe's most recent HST tattoo. He started with the fist years ago, then "Fear and Loathing" on his forearm and now Steadman's drawing on his leg. He is a true believer."