Screwjack
Page added 1998 or 1999
Page last updated Spring 2006
Up until about 2000, when Simon & Schuster released Screwjack as a hardcover and an e-book, it was one of those legendary little titles. It appeared in lists of HST's works, but was mysteriously not for sale! Chasing Screwjack introduced me to the world of collectible books. The idea that books could be printed in small, independent runs, was rather new to me.
Finally, I decided to buy a copy in 1998, after much hemming and hawing. I was still working at the library at the time, for $13Cdn an hour, and I calculated how many days I would have to work to buy a copy :-D I'm glad I did, because it also didn't occur me that the price of books jump with the popularity or death of an author. For example, prices on HST books jumped after the FLLV movie came out, and jumped again after he died.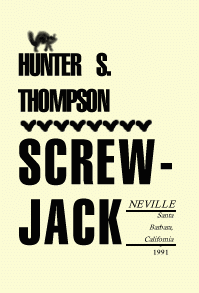 Screwjack is definitely one of the Holy Grails of gonzo ephemera. Issued without a jacket of any kind, mine is bright red with that weird owl embossed in gold on the cloth cover. The red reminds me those little red envelopes that are passed around at Chinese New Year (most red cloth covers are off-red, sort of a cherry colour). My copy is #162 and signed by HST on a page at the back. I can't tell you how wonderful it is. It's very precious.
The pic on the right is a rather sorry imitation by me of the flyleaf that has been here for quite a while; I saw it in The Gonzo Herald, published by Hal Marcovitz and reproduced it in CorelDraw7. In actuality, the title is in shiny silver letters, while the jagged line is red. This jagged line appears in red at the top of all the pages.
It is dedicated to Mona and starts out with a letter to someone named Maurice about the order of the stories.
Screwjack was published in a severely limited edition by Neville Books of Santa Barbara in 1991. Many people thought it was non-existent, as it's only record was a listing in the "previously published by" of Better Than Sex. It was not even registered with the Library of Congress. Screwjack is a slim 38 pages of three short stories: "Mescalito" (previously published in Doomed as "First Visit with Mescalito"); "Death of a Poet" and "Screwjack". "Screwjack" is a rather morbid story about HST's cat. This story was apparently the one that Gail Palmer-Slater read aloud on that ill fated night of breast tweaking. You can now read two reviews of Screwjack
Copies of Screwjack run from $125-400 depending on which version you have or want. 26 copies were bound in brown leather and numbered A-Z. 300 copies were bound in red cloth and numbered 1-300.
Below is leather-bound copy "L". Copy "N" is owned by a gonzo acquaintance of mine, and there are at least 5 presentation leather copies. If you are lucky enough to own "A", it has been scribbled in by Ralph Steadman. Way cool, eh?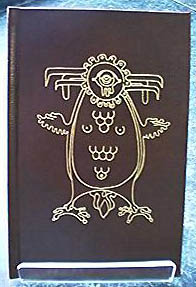 If you are knocking your head silly and wanting Screwjack, you'll find it among these check out ABAA Book Net and search their independent and bonded dealers. Or, of course, eBay or Alibris.